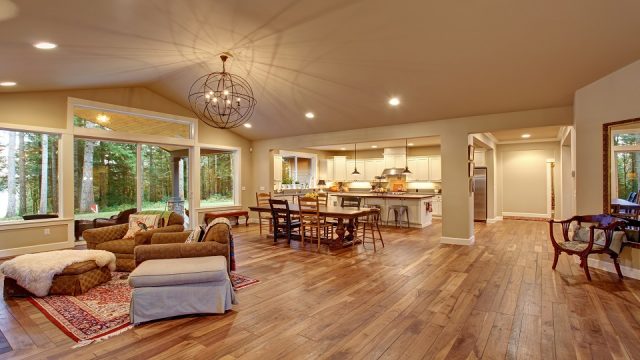 Having pets at home calls for many safety and preventive measures, including the floors through which they walk and run around all day. Therefore, it is essential to not only take care of the safety of your pets against slip and fall, but you also need a flooring that would withstand any wear and tear and can absorb any dirt or liquid particles spilled on the floor. 
The topic leads to the ultimate question: which flooring is ideal for pets? Different types of flooring are available in the market; however, hardwood flooring is commonly recommended for pets. It is a winner among pet owners as the hardwood flooring is more durable and hard-wearing than other flooring options. 
Read on further to understand the various options, along with hardwood flooring, that pet owners can use. 
Choosing A Pet-Friendly Flooring For Your Home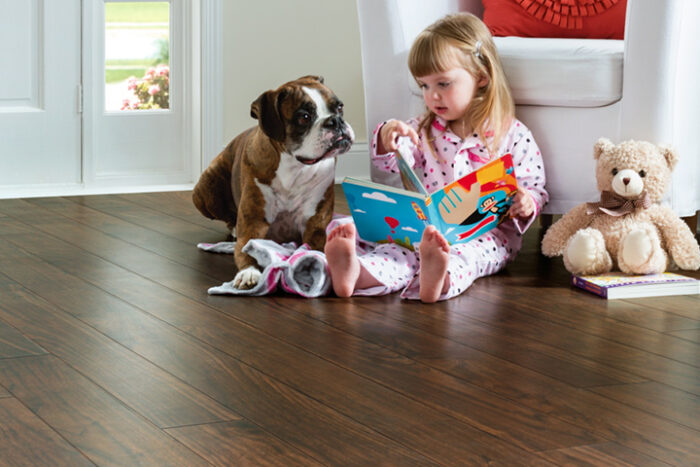 These days, many options are available when it comes to choosing pet-friendly flooring for your new house. Even though it is a necessary and important step to be taken by you as a pet owner, the task can be challenging. Here are a few things to remember before deciding on your final decision. 
As a pet owner, especially if you have cats or dogs, priority should be given to their comfort. They always lie and sleep on this floor apart from walking around. Therefore, selecting flooring that provides comfort for all their daily activities is prominent. 
The flooring should also be non-slippery and durable, as your pets will not stay in one place for a long time. And lastly, opt for an option that makes the cleaning process easy and non-absorbent if your pets pee or poop on the floor by any chance. 
Hardwood Flooring: The Most Recommended Type For Pets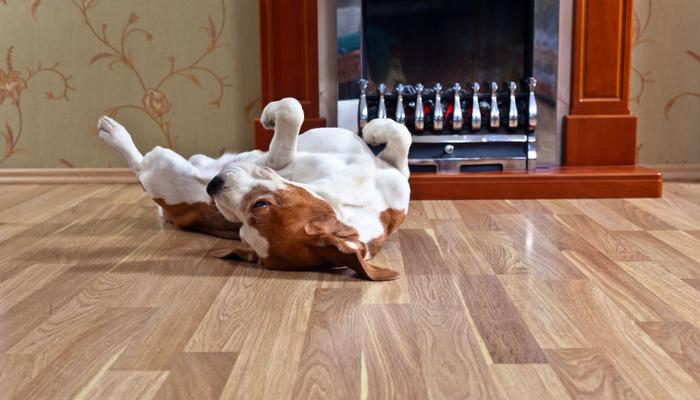 Hardwood flooring has a unique charm and is versatile in its function and design. As a result, it is one of the popular flooring types used for years and centuries. In addition, hardwood flooring can be denser and more durable than softwood, making it long-lasting with less maintenance. 
This flooring has many benefits, including maintaining a moderate temperature throughout the year. Hardwood is considered ideal for houses with pets for several reasons. Apart from being durable, they are also easy to clean as there is no place to tuck away pet hairs and dirt like carpet flooring. 
One of the stronger options in the hardwood category will be advisable if it is especially for pets. Different options are available under the hardwood, among which oak might be the most durable option. However, other options under hardwood flooring are also equally impressive and beneficial for pet owners. 
Other Flooring Options For Pet Owners
Apart from hardwood, there are also other options that pet owners can choose from depending on their availability and benefits. Some of the options are given below. 
Solid Concrete Flooring
Concrete is resistant to spills and stains and is great for durability. As a result, finished concrete can be used as a great option for flooring purposes. In addition, there are colored variations available to make the interior space look brighter and more lively. 
A water prevention layer can be used to absorb any liquids. It is proved that concrete certainly calls for a place in this list when utilized in the best way. 
Ceramic Or Porcelain Tiles 
The main advantage of using these types of tiles is the easy-to-clean factor. You can easily mop the surface and get it clean instantly. In addition, there is no space underneath where pet hair or other things can get stuck and accumulate.  
However, one thing to remember is that these tiles have colder surfaces. So even though it will be fantastic for the pets during the summer, it might be an issue during winter. Therefore, build it over a heating system to spread warmth in the interior spaces. 
Natural Stone Tiles 
Tiles are a great option for pets as their surfaces are the easiest to clean. All tiles available have a finish with a natural charm similar to the texture and look of stone or hardwood. 
These tiles have a steady and hard surface, so your pets can play through it with resistance and without the fear of slipping and falling. However, these tiles also have a colder surface which could make the pets feel uncomfortable during colder days. 
Bamboo 
Bamboo is excellent when it comes to durability, and due to that, it can be a great choice for pet owners. In addition, the bamboo floor generates a warmer temperature which is beneficial for the pets throughout the year to feel comfortable and relaxed. These floors are also great for pets as they are damage resistant. However, they are not easy to clean as water might get leaked towards the underlayment of the floor, but this can be prevented by maintaining a tight seal on the floor. 
Luxury Vinyl 
The luxury vinyl sheets are the best option for pet owners, especially those with dogs. They have features ideal for pets, like durability and resistance to wear and tear. In addition, these are easy to install and are long-lasting with less maintenance. Apart from these, vinyl floors are easy to clean and can be an excellent option if budget is not an issue. 
Conclusion
Of all the options available, a hardwood floor is certainly a winner and greatly beneficial, with many advantages over other choices. They are a safe and secure option for pets with their durability and damage-resistant factors. They have been loved and used across the globe for centuries and will always be popular and stay in trend with amazing aesthetics. 
Apart from hardwood, you can finalize your decision depending on your budget or any other essential factors you think are important. Opt for the one that will benefit you as an owner and your pets equally. After all, what is important is for your pet to feel comfortable and secure when carrying out their daily activities inside the house.