Spending some quality playtime with your children is always important. Chasing them around your house, doing a bit of hiding and seeking, playing with their toys will create a unique bond between you to. When you are all out of time for the day, you can even take them to the local neighborhood playground where they can make new friends and play with them too.
However, if you are located in a remote location or on a farm, finding a playground in your vicinity is almost impossible. No one has the time to drive hours and hours just to get to a place where your kids can have fun that is located a hundred miles away. When you are in this kind of situation, you got two options. You either dedicate a bit more of your time throughout the day to spend it with your kids or you just let them have fun outside in your backyard.
Naturally, you probably cannot afford to lose more time from your job, so they will have to make do with the backyard. Unfortunately, after a couple of weeks running around your farm, they will get eventually bored.
Since you have a large piece of property, why not use it to your advantage and build your own playground where your children can have tons of fun? It is not an expensive investment and it is long-lasting too. It really is a win/win situation. To truly amaze your children, you will need to find the right stuff to make it the best playground possible. Here are some of the ways you can do that.
Get a trampoline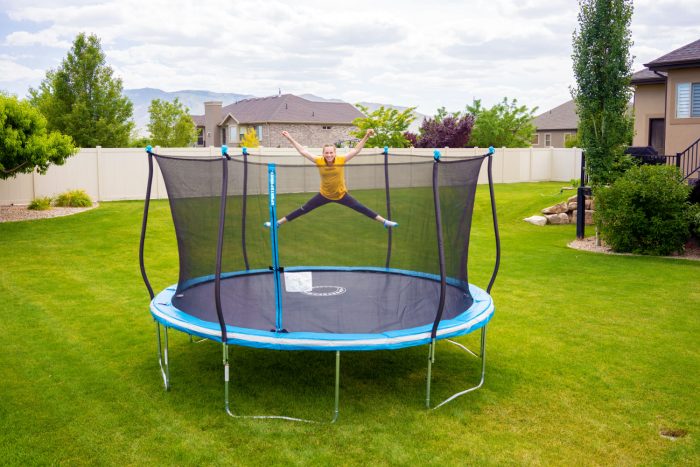 What do young kids love more than running? Jumping, of course. Whenever they see anything that is bouncy, they will jump right on it. It is like they have something hardwired in their brains that they have to test out the bouncy bed or furniture. Instead of having them going reckless in your house, you should consider investing in a trampoline.
The size of the trampoline should be determined by the free space you have in your yard. Of course, it should be a reasonable size, not to make your land look ugly, but it should be big enough for your kids too. Creating a balance in size is vital.
Chalkboard walkways or chalkboard walls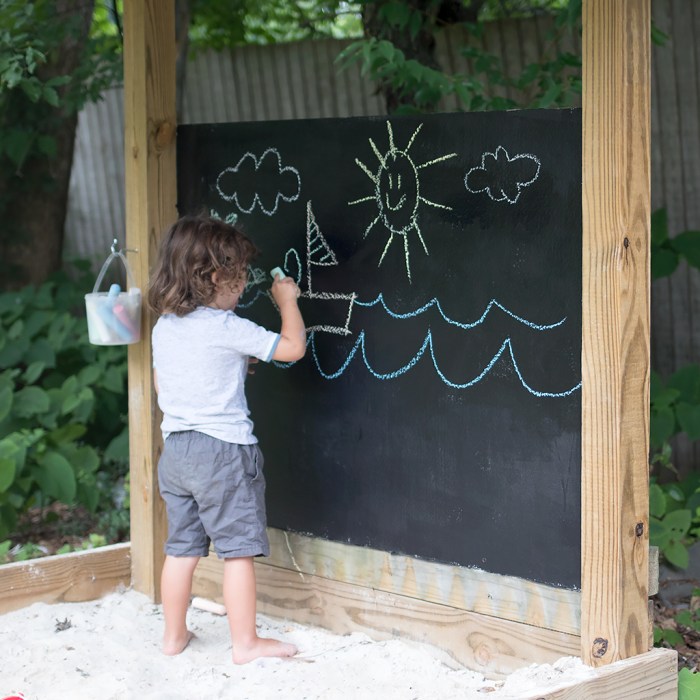 It is a well-known fact that children love to get creative. They will draw on almost anything they see as a canvas. The walls in your home, the cement ground, the streets, sheets of important document paper, etc. Instead of scolding them about drawing where they shouldn't have, why not provide them with a canvas where they will be able to freely express their artistic side?
With so much open space in your yard, you could paint the ground or walls with chalkboard paint. You are basically creating a chalkboard-like experience without having to buy the board at all. Get them a couple of chalks in every color and let them draw anything they want. Nothing is off-limits. Except, of course, the indoors of your home.
Sandpit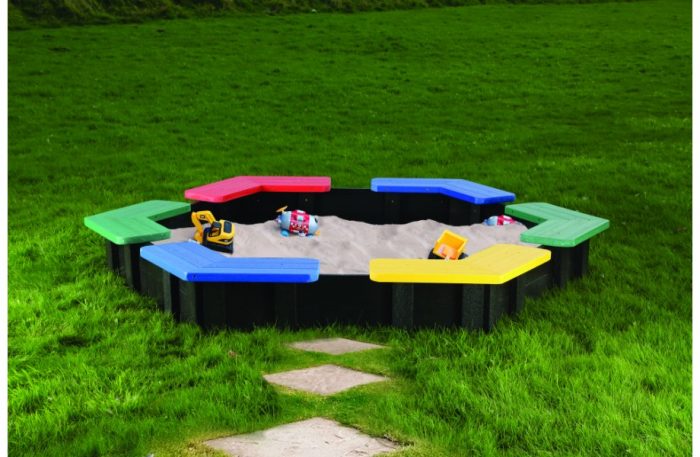 Children like to expand their artistic side to other ways than just drawing. If you were to give them a bucket on a sandy beach, they will try to make all kinds of castles, houses, or "brick" walls from the sand.
This kind of experience is not exclusive to beaches only. You could build a sandpit right there in your own backyard where your children will have the option to build anything they like. Make sure you get them the right equipment though. Without it, they won't be able to create a single thing. Get them little plastic toy shovels, several differently sized buckets, etc. Not only do they get to have fun in it, but it is also safe too. The sand provides soft padding where they won't be able to hurt themselves if they slip and fall.
Assuming that you are interested in adding this kind of feature to your farmland, you should check out nicoleg.dk.
Swingset
Kids love to experience a bit of adrenaline too. They usually get adrenaline when you chase them around the backyard or when you pick them up high off the ground. Since you do not have so much free time to keep them constantly entertained, you could get them a swing set.
It is a cheap investment and it will look good on your property. We advise you to get a wooden one assuming that you want it to look good together with your house.
This swing set will be the type of adventure your kids are looking for. Swinging up and down is truly an amazing experience that gets your blood pumping. Even as an adult, I could say that it gets my adrenaline going.
The size of the swing set should depend on the age of your children. Too big can be dangerous, but too small will prove to be useless for taller kids.
Fire Pit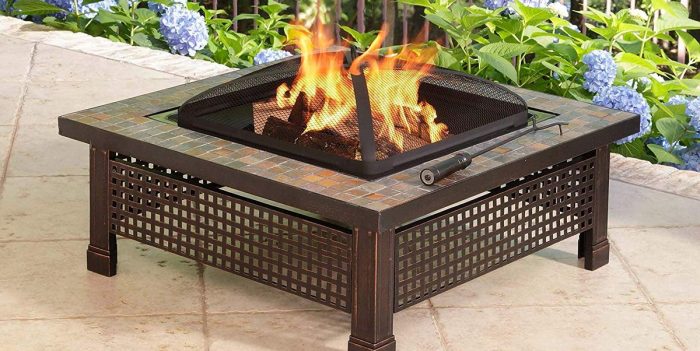 After they have a day full of adventure and fun, it is time to slow it down a bit at night. Unfortunately, children have too much energy sometimes. It is like they never need sleep or recharge on their batteries. It is vital to get them sleepy before you get them to bed.
The best way to do this is with a fire pit. Right before you put them to bed, light a small fire, and cozy them right next to the pit. You can tell them a story or read them a book while they stare at the fire or look at the stars in the sky. The story, the crackling of the firewood, and the heat will get them sleepy in no time.
Once you notice them yawning, you can finally get them to bed. Make sure you do not forget to extinguish the fire too.
By building or installing any of these things we mentioned in this article, you will create the perfect playground for your children.