What is Hydroponics?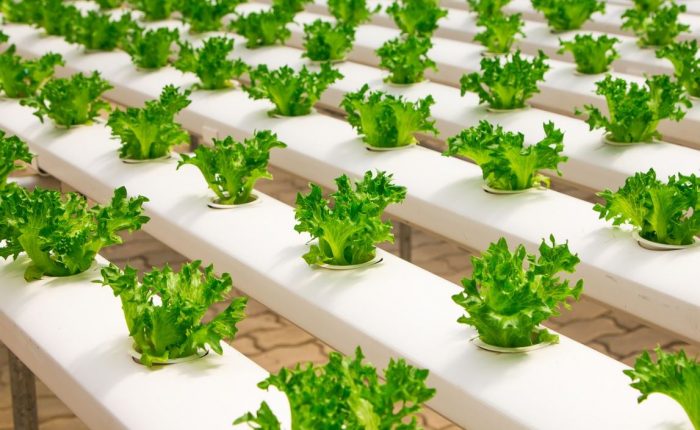 Hydroponics is a popular topic of discussion when it comes to modern farming. While it may sound like a hi-tech process only used by technologically advanced companies, it is actually a simple concept that you can use within your own home.
Hydroponics refers to the technique of growing plants in water rather than soil. This technique has actually been used for thousands of years by ancient civilizations such as the Aztecs, Chinese, and Egyptians. However, vast improvements in technology have been made since then, allowing the process to be more controlled and efficient. Terrestrial plants can be grown hydroponically if they are supported in a way that only exposes their roots to the water; one method involves using a chemically inert substance like gravel. A wide variety of common vegetables can be grown this way, including tomatoes, cucumbers, lettuce, onions, radishes, and peppers.
Since the plants are not gaining nutrients from soil, nutrients must be added to the water somehow. There are multiple ways to do this, the most popular being artificial nutrient solutions or chemical fertilizers that are manually added to the water. However, there are natural nutrient sources as well, including duck manure and fish excrement. Aquaponics is a specific farming technique that involves both plant and fish production. This technique produces a self-enclosed, recycling system in which the fish produce nutrients for the plants to grow, and in turn the plants filter the water to be used by the fish again. Depending on the species used, this can be done with both fresh and salt water.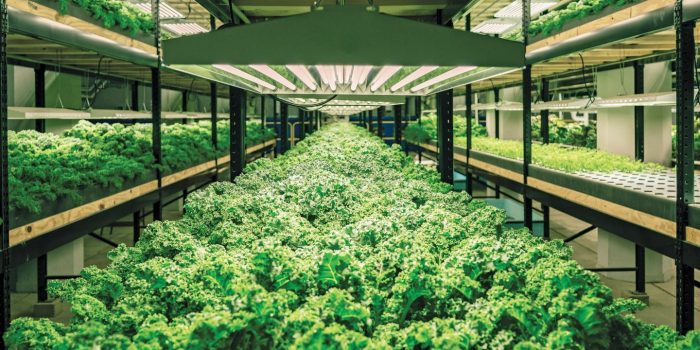 Benefits of Hydroponics
There are a plethora of advantages to hydroponic farming compared to traditional terrestrial farming techniques.
Save space: Plants can be grown much closer together in a hydroponic system, since they do not spread their roots out to reach nutrients that normally may be deep in the soil. Since the roots are surrounded by nutrient-rich water, most of their energy is focused on stem, leaf, and flower growth.
Higher and faster yields: Plants grown hydroponically can grow up to 20% faster, since they are in a more efficient environment. Not only that, but they can produce yields 20-25% larger than terrestrial grown crops. This is largely due to the strictly controlled environment, which allows for perfect growing conditions for each plant species.
Reduced water usage: All of the water introduced into a hydroponics system is either used or saved. In a covered indoor system there is no chance of water seeping below the roots or evaporating. The amount of water used daily in a terrestrial farming system can be used to support the same amount of hydroponic plants for several days, or even a week.
Controlled climate: In an indoor system, every aspect of the environment is controlled, allowing plants to be grown anywhere in the world, regardless of climate. This has huge implications for global food distribution, and allows you to grow whatever you want.
Reduced pesticide use: As most pests and diseases thrive in soil, the need for pesticides is drastically reduced in a hydroponic system. However, there still are a variety of pests that can infiltrate a hydroponic system, such as aphids, whiteflies, and spider mites.
No weeds: Controlling weed growth can be a time consuming process for many farmers and gardeners. This task is completely eliminated with hydroponics.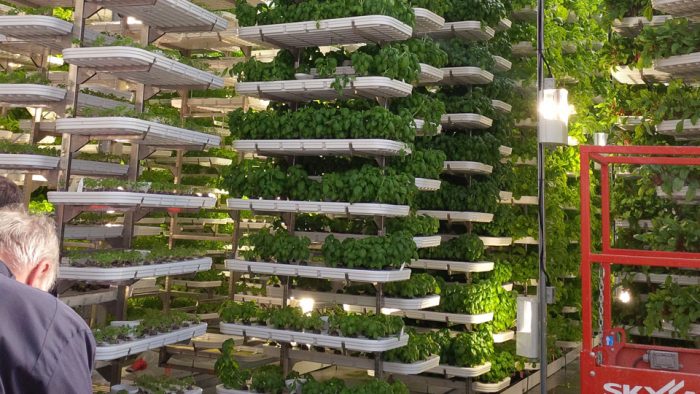 While there are some downsides to growing hydroponically, such as the need for electricity to maintain irrigation systems, the benefits make it highly suitable for many urban farmers. Hydroponics are perfect for growing vegetables if you don't have a lot of space outside, or you would like to save your yard for landscaping projects, such as those provided by Nature's Friends.
How to Get Started
While there are multiple variations of hydroponic systems, one of the easiest to set up is called a Deep Water Culture, or DWC. This involves a single reservoir of nutrient-rich water in which plants are suspended. Once you have added a nutrient solution into the water reservoir and suspended your plants, you will need to use an air pump and an air stone to add a continuous supply of oxygen to the water. This setup can be extremely cost-effective, depending on the size, as you can use objects such as a 5-gallon bucket and a net cup to hold your plants.
With this simple system you will ideally need a location where the plants can get at least 6 hours of sunlight per day. If not, you will need to purchase proper indoor growing lights, which involves finding the correct light intensity, spectrum, and power for your species.
One of the best ways to ensure success from the start is to use cloning rather than starting with seeds alone. This simply means taking a plant seedling that has already begun growth from the ground and transferring it to the hydroponic system.
Additionally, you need to closely monitor the pH of the water, as this is a vital component of the plants' environment. To ensure your water is properly filtered, it is ideal to use Reverse Osmosis water. You will also need to use a pH testing kit to ensure that the pH levels of the water are suitable for your plant species. Most herbs thrive in pH levels of around 5.5 – 6.3, slightly more acidic than normal tap water. Additives to adjust pH can be purchased online; some brands of nutrient solutions include pH balancers as well. Most nutrient brands will advise you on when to replace your nutrient solution or when to add more to keep your plants growing and healthy.
Although the need for pesticides is drastically reduced in a hydroponic system, ensure that you have proper protection from pests that can infiltrate your plants. There are hydroponic-oriented pest control brands that target the most common pests you may encounter.
Using these tips, you can have a hydroponic system up and running in no time! Whether you live in a small apartment, an area with difficult climate for growing, or would like to reduce the water usage in your garden, hydroponics can be an effective gardening solution.