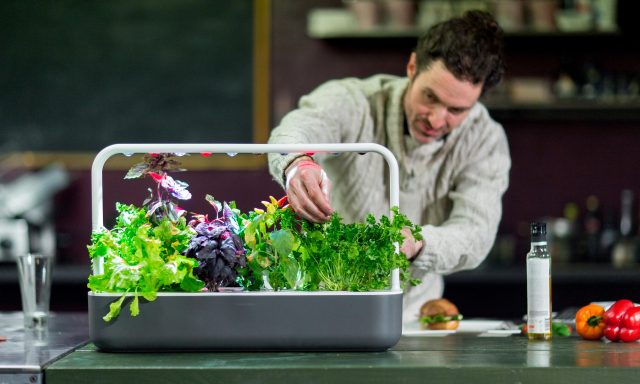 Do you love plants and gardening? But do you have a garden? Probably not. There are a lot of people that do love gardening and adore plants and want to have their own personal jungle, but they can't because they don't have space, the life in an apartment, or they just don't have time. But there is a solution for that too, indoor smart gardens. They are just that, smart indoor gardens. They are perfect for everyone that wants to have some plants in their home, offices and for everyone that enjoys in the growing process. We are going to show you what are the best indoor smart gardens out there and the variety of options.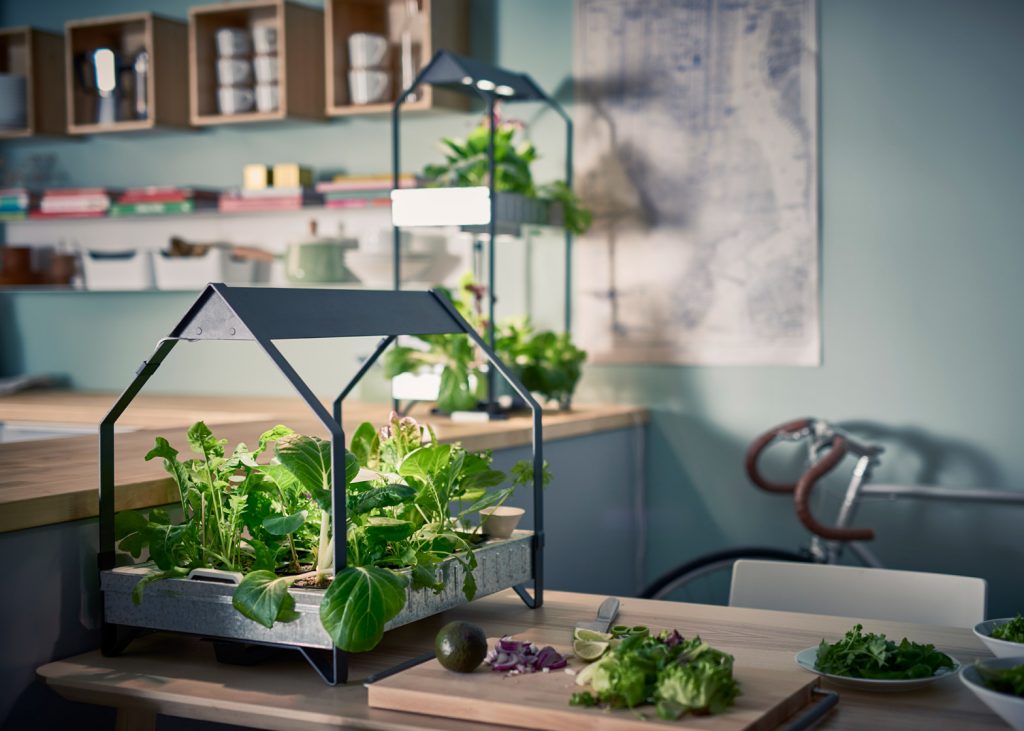 1. LeGrow Smart Garden
This is a modular indoor planter system and you can customize the layout of your garden by just connecting the individual planter pots together. The system has multiple options, like grow lights, humidifiers, mobile device chargers and planters with integrated clocks. The best thing is that it's modular, so you can try one version and then expand over time.
But this option will be good for you only if you plan to invest a little bit of time in this garden because there is no automated watering for the planters, so you will have to do the watering part. This garden is suitable only for small plants, so that means it will be the best for growing your own spices and herbs.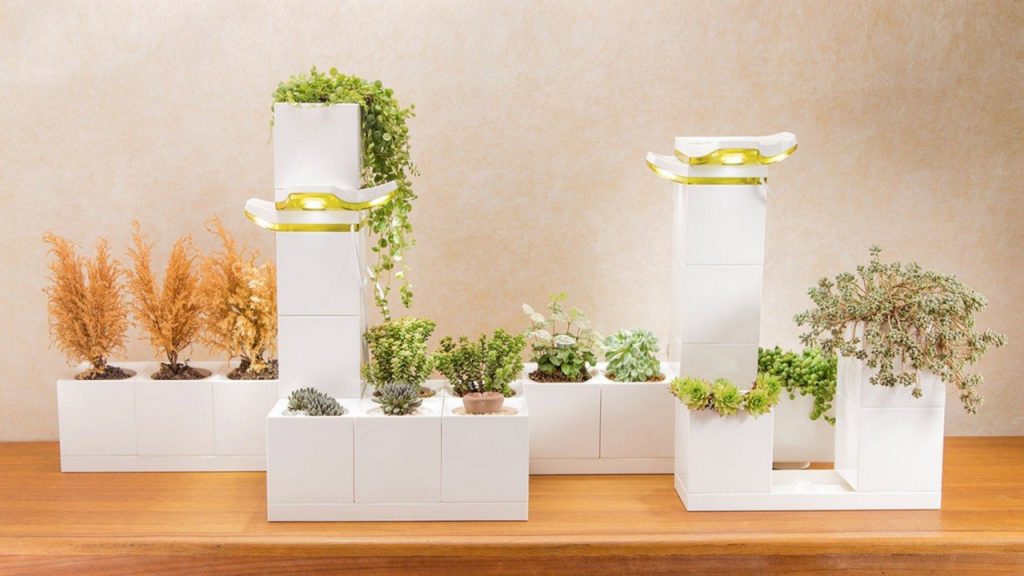 2. Click and Grow Smart Garden
This garden has an integrated LED grow light that will ensure that the plants can grow anywhere in your house, not depending on the light. The only thing that you need to provide is water and a small amount of nutrient solution, but you don't need to add that to the reservoir so often. This way you can grow herbs and all sorts of greens and vegetables. This garden can be very useful in your kitchen and a big plus is that it looks very stylish.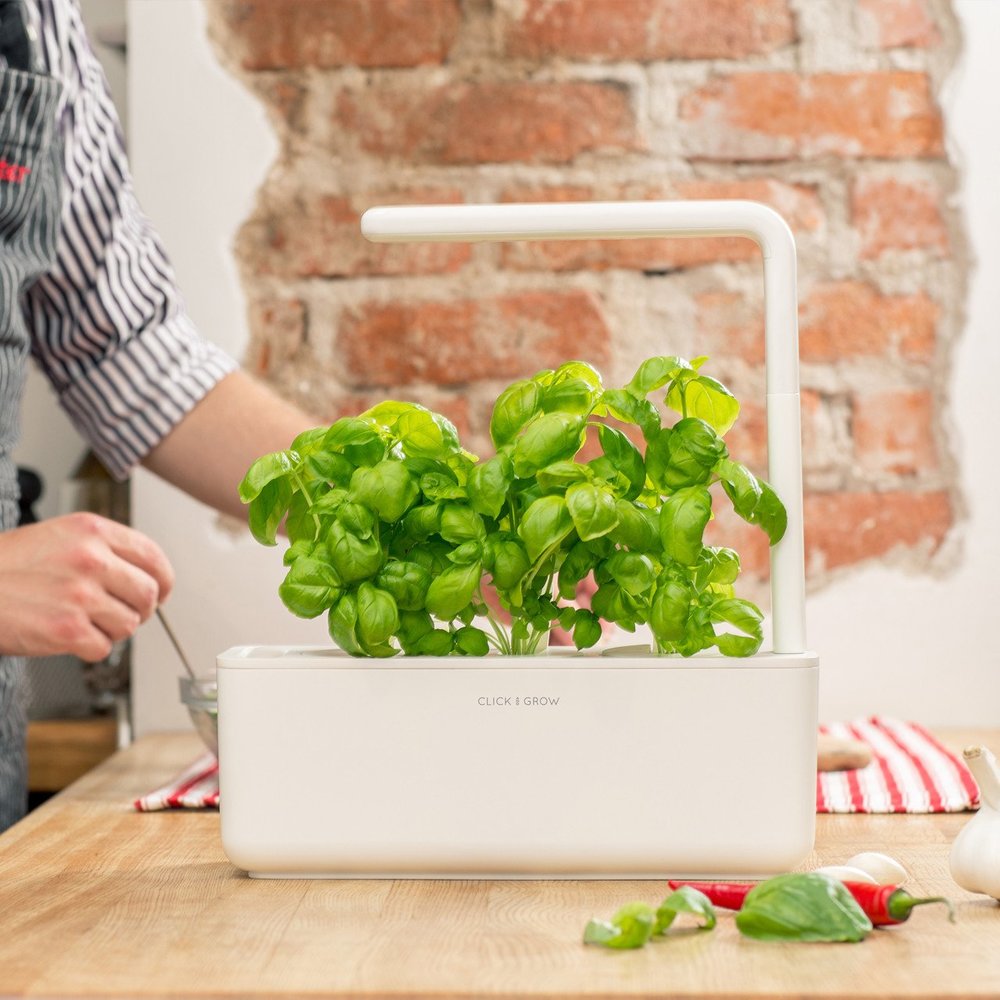 3. Botanium Hydroponic Grow Kit
If you just want great plants and you don't have much time for them, maybe this is what you need.  There is a water reservoir at the bottom of Botanium plant pot, where you need to add water and a small amount of supplied nutrient solution, and the best thing is that can do that every few weeks. And the water and nutrients are delivered to your plants by a water pump every 3 hours. And everything that is not used goes back to the reservoir and it is reused again, isn't that great.
The downside of this indoor garden is that it doesn't have a grow light, so you need to place it somewhere sunny, or you need to buy a separate grow light. And another thing is that it needs a power supply and it can't run on batteries. So, if aesthetics are very important to you and you don't want a power supply cable to dangle around, this isn't for you.
4. EDN Wall garden
This is a large smart indoor garden that you can hang on your wall. It has an automated watering and fertilizing system and it also has a built-in LED grow lights. What's interesting is that it has a built-in WiFi and has a smartphone app, in which you can monitor your plants and it gives you notifications when you need to add water or nutrients.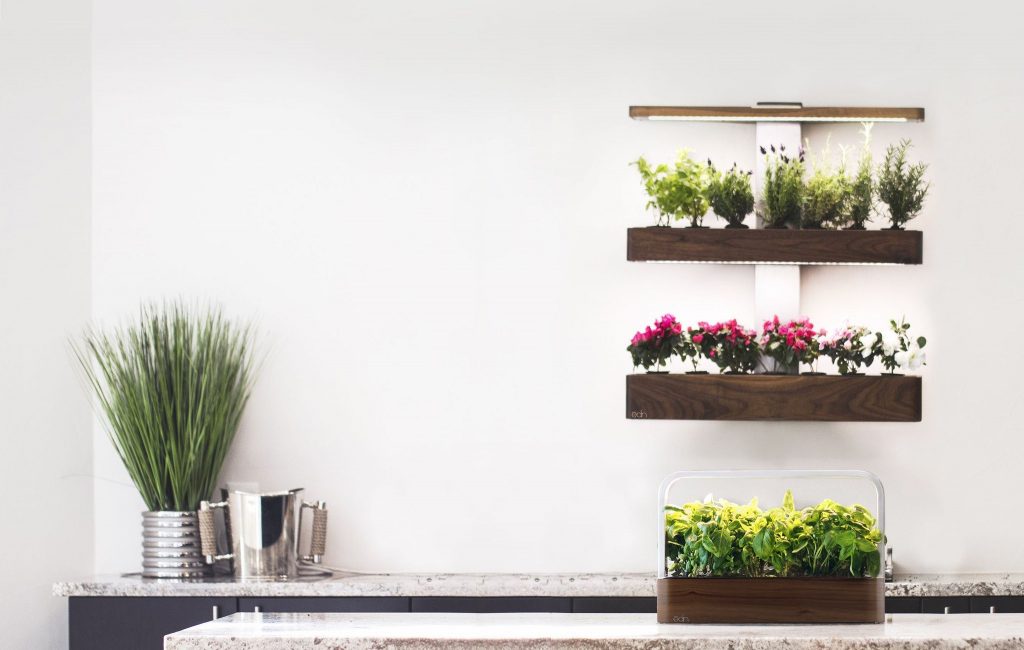 5. Veritable Indoor Smart Garden
This is a very similar garden to the Click and Grow, but the design is different. It a bit classier and there are different styles from which you can choose. This garden has a reservoir tank, where you put water and nutrients and then they are automatically delivered to the plants when needed. You need to refill the reservoir every few weeks, so it's great if you don't have much time to think about your plants.
The guys at Veritable designed their own 'Lingots', custom made seed refills, which contain organic seeds, biological substrate and essential nutrients for each plant. Your job is to just place the 'lingot' into the unit and the garden will do all the rest.
6. Plantui 6 Smart Garden
This is another garden that is perfect for herbs and small plants. It has integrated grow lights and almost everything is automated. This is a great accessorize for your kitchen because the design is looking pretty, but also a very practical addition to your kitchen because you will always have fresh herbs.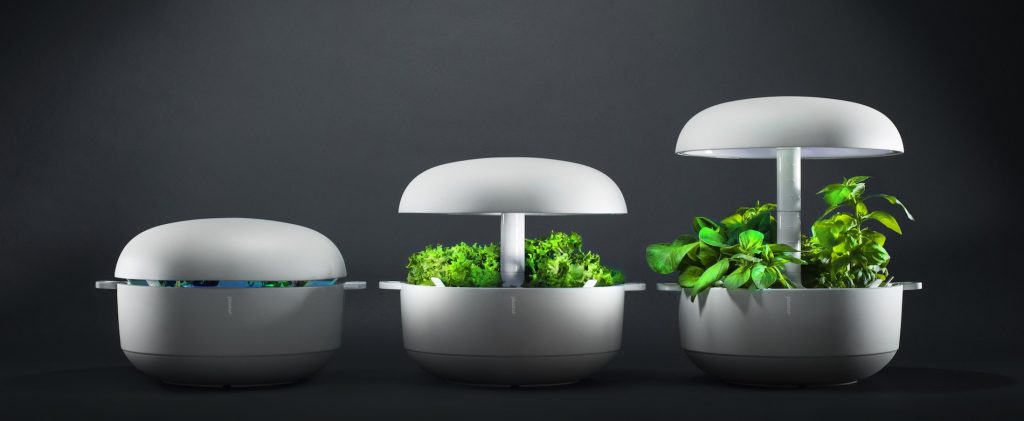 7. AeroGarden Bounty Indoor Smart Garden
This garden is a pretty big one, and it can grow 9 plants at a time. And you don't need to limit yourself to small herbs because here you can grow even lettuce, chilies or strawberries. You can adjust the height of the grow light and you can control the lighting timing and the LCD display also tells you when you need to add water or nutrients. And what's interesting is that the seed pods are soil-free.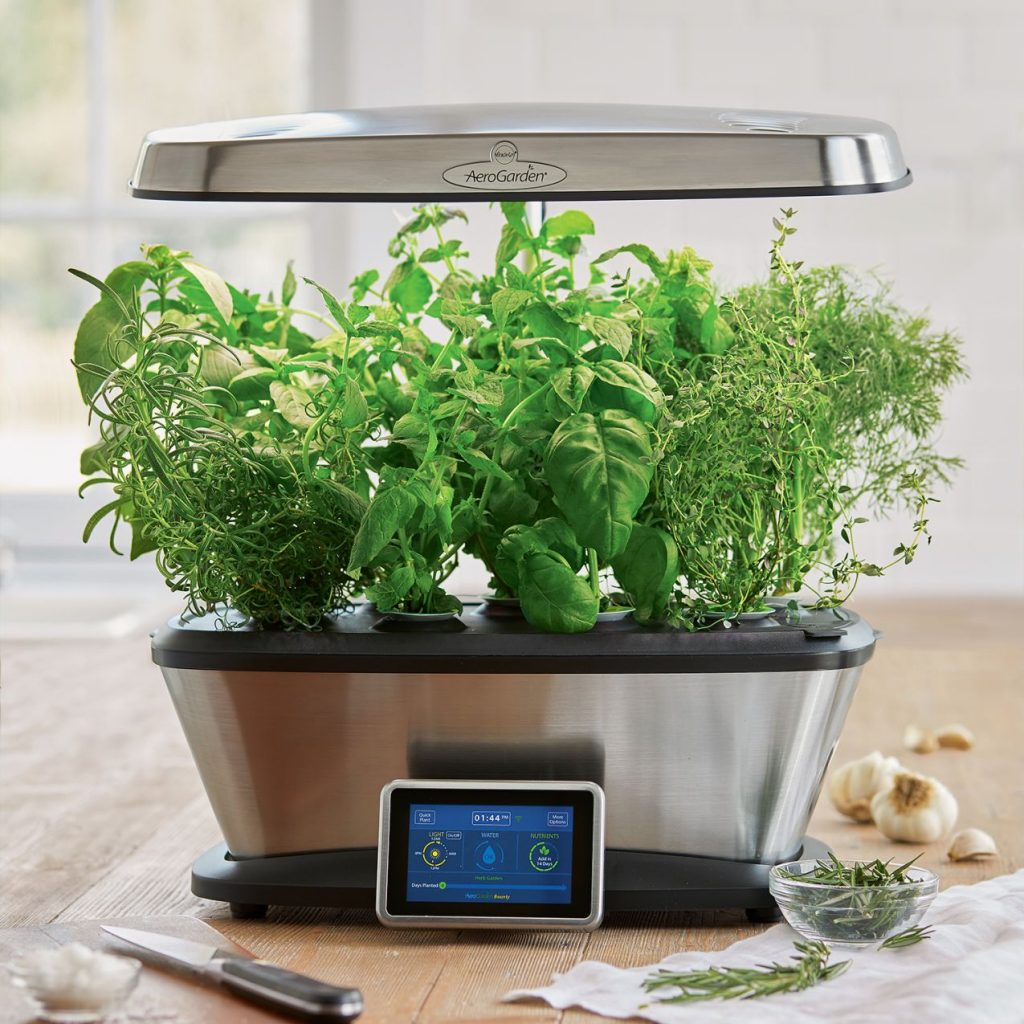 8. Aerogarden Farm
This garden is if you are super serious with growing plants. You need much more room for it then for the other ones, but you also can grow many more plants than in the other gardens. You can grow 24 plants at once, and you can grow vegetables, herbs, and salad greens. It has a built-in WiFi and you can control everything through an app on your smartphone. This is a garden that you can place anywhere in your house and it will look stunning. You can choose from variety seed pods, but you can also grow your own seeds.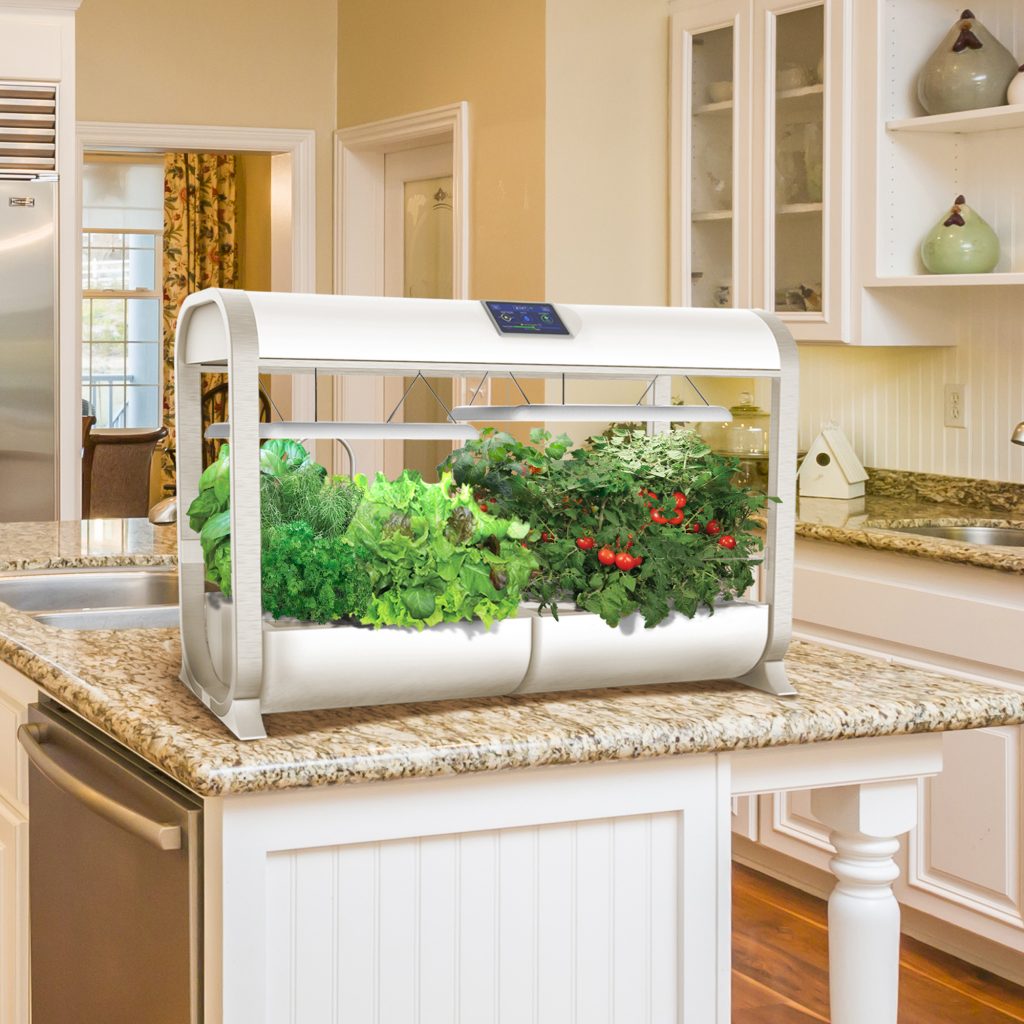 9. IKEA Herb Wall
This next indoor garden is not a smart garden, it's a DIY garden, and you can make it with just a few rails and pots from IKEA. It can look magnificent on your kitchen wall and it can revitalize your space. But this project is just for those that do have time to grow their plants and can take care of them. You need to water your herbs by yourself and you need to provide sufficient light for your herbs. But it's just a great and a more creative way to make an indoor garden. In this type of garden, you are limited to growing just herbs, but that can be enough.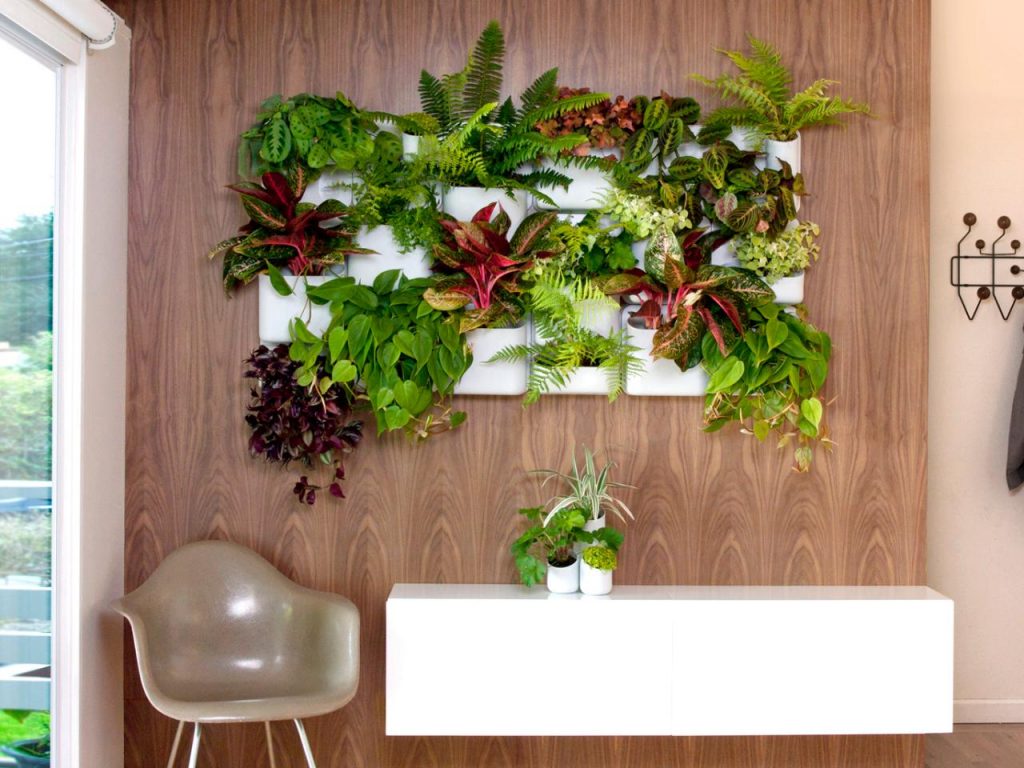 10. IKEA KRYDDA/VAXER Indoor Smart Garden
This is another garden option from IKEA, but this time it's a smart one. It has a built-in hydroponic system and it comes in many different sizes and with one or two tiers. It has a built-in LED grow light and a nutrient reservoir, and you need to water the plants just every week or so. You can buy fertilizer, seeds, growing media and spare grow lights. You can buy it as a kit or individually.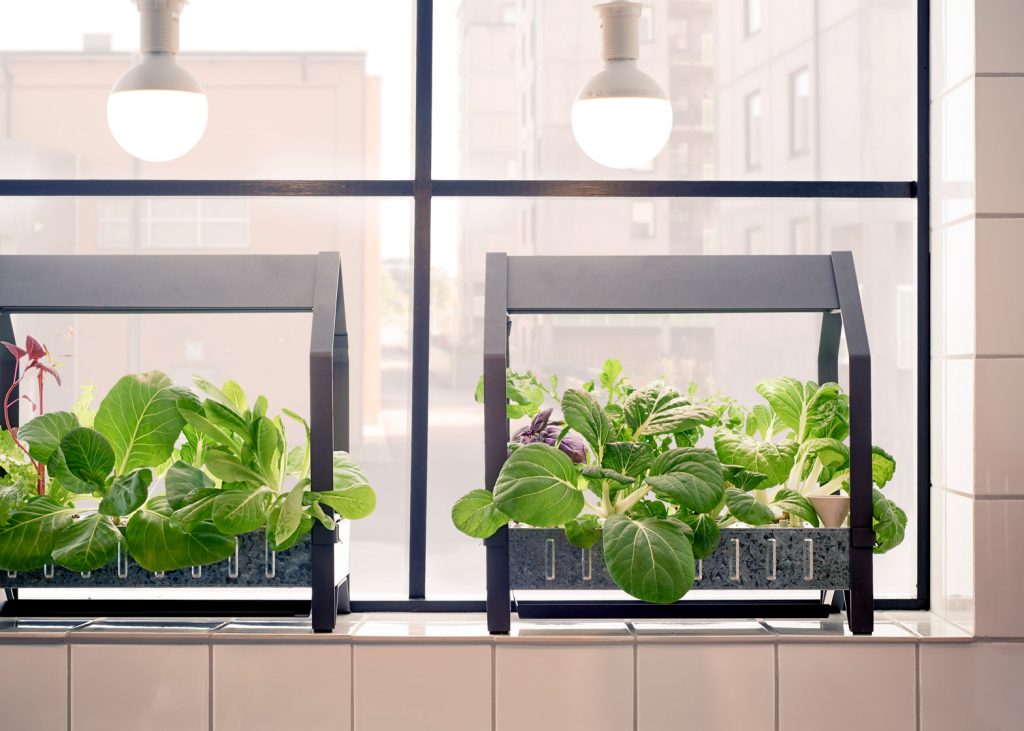 11. Springworks Microfarm Aquarium Topper Aquaponic System
This garden uses a cultivation technique called aquaponics, where fish and plants live together, and they provide mutual benefits to each other. The water is circulating up to where the plants are growing and the waste that the fish make is not being accumulated in the water tank that way. The plants remove the waste from the water and the clean water is returned to the fish tank. It has a grow light and you can put it anywhere you want. You don't need to look after this garden much, but you can look at it as much as you want because it is just beautiful.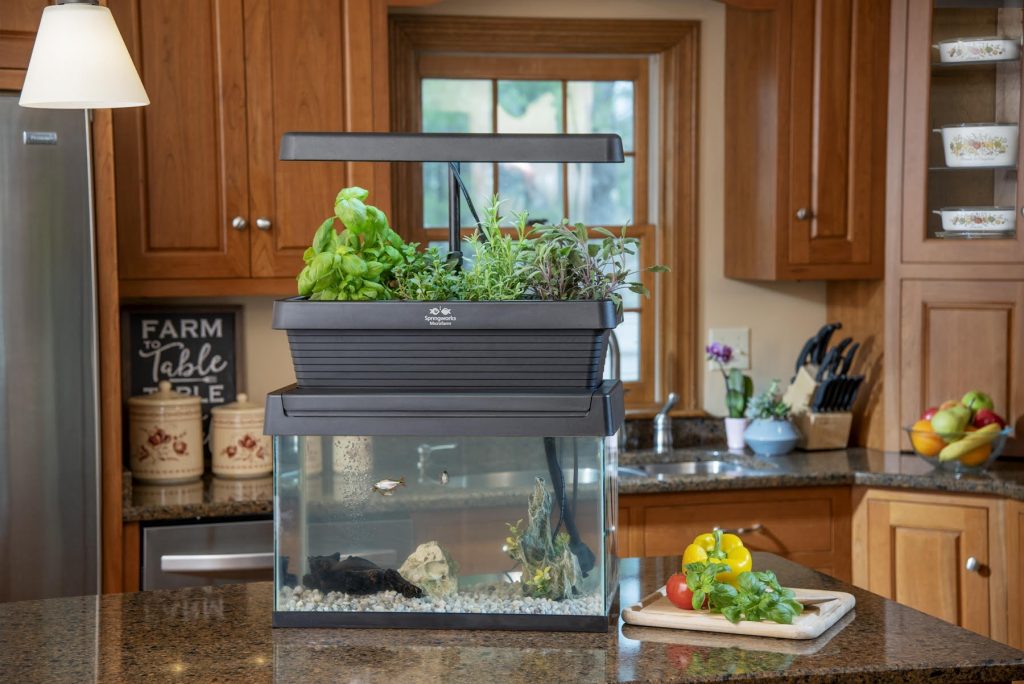 12. Aquasprouts Garden
Another garden that uses the aquaponics system and it's even more beautiful than the previous one. The water from the aquarium is pumped up to the grow bed, so the plants use the water as the fertilizer and the water gets cleaned for the fishes.
It has a light bar and an optional LED grow light, so you can place it anywhere you like in your house. The downside is just that you can grow small herbs and not plenty of them, but it's so good looking and a two in one.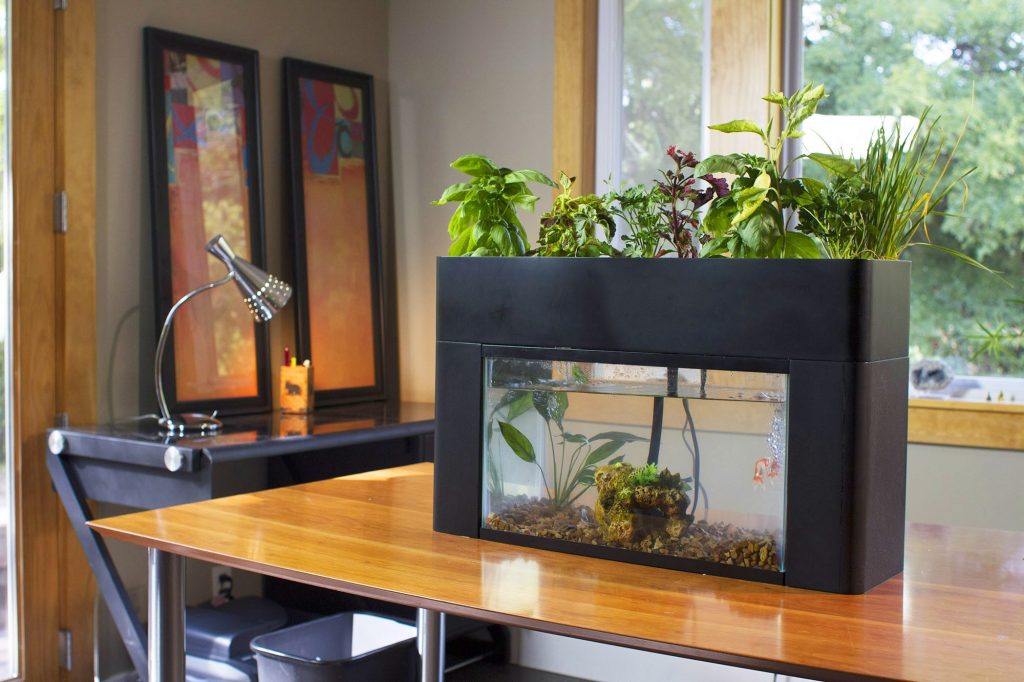 13. CityCrop Intelligent Indoor Smart Garden
This is a very sophisticated indoor growing system and if you are beginner this is something that you probably won't buy. But if you want full control on lighting, ventilation, air flow, temperature, water, and nutrient delivery to your plants you don't need to look further. It has a hydroponics system, which means that it grows plants without soil. It looks futuristic and sophisticated. It has many smart functions and an app from which you can monitor the growth of your plants and adjust all the settings.
14. Tower Garden
We must admit that this isn't really an indoor garden, because it definitely goes better on a balcony. But it's perfect for growing your greens and herbs. This is also a garden with a hydroponic system and it's vertical. It looks very natural and beautiful. There isn't any additional lighting, so it's definitely better for you to place it on a balcony. The water and nutrients are delivered to plants by a water pump and drip irrigation system. It has a 15-gallon reservoir at the bottom of the tower, so you don't need to think about watering at all.