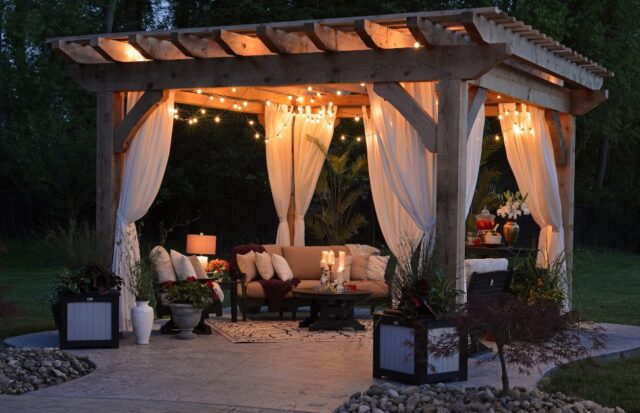 A home's outdoor space plays a major role in the overall aesthetics and functionality of the property. The patio, in particular, is one of the most used yet overlooked parts of a home's exterior. It serves as an intermediary space between the indoors and outdoors – an area to enjoy fresh air while still feeling connected to the comforts of home.
Over time, patios can start to fade, crack, stain, and generally show their age. Old furniture may start to break down, surfaces can become dirty or damaged, and the overall aesthetic can end up looking tired. Upgrading a patio not only helps tackle all these issues but also presents the perfect opportunity to increase a home's aesthetic appeal and value. Thoughtful upgrades can transform the space into a true outdoor living room.
There are many factors to consider when planning patio upgrades, including your budget. Keeping that in mind, you can opt for small upgrades like new patio furniture. While extensive renovation projects completely transform the space, some mid-range DIY upgrades can also make a huge difference.
Here are six ways to upgrade your patio to help you get started!
1.  Add a Grill Station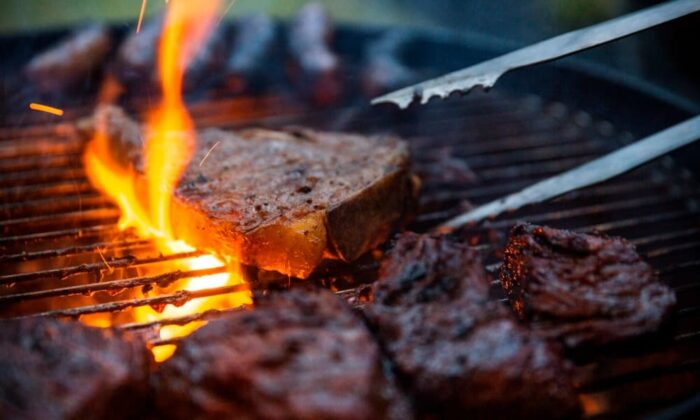 With grilling being one of the most popular patio activities, adding a designated grilling station can help you take your patio cooking experience to the next level. When looking for a grill, make sure to opt for a reputable brand like Weber. Moreover, look up some tips for choosing the perfect Weber grill. This will help you get a product that is suitable for your particular needs.
Some basic tips include:
Choose the right size grill based on how much cooking space you need and the dimensions of your space. Measure the area to ensure a proper fit.
Pick a model with a lid that seals in heat and moisture for juicier results.
Choose a model that offers various temperature control options suited to your cooking preferences.
Installing a grilling station with prepped counter space, closed storage, a sink, lighting, and the perfect grill tailored to your patio creates an ideal grilling headquarters.
2. Incorporate Stylish & Durable Flooring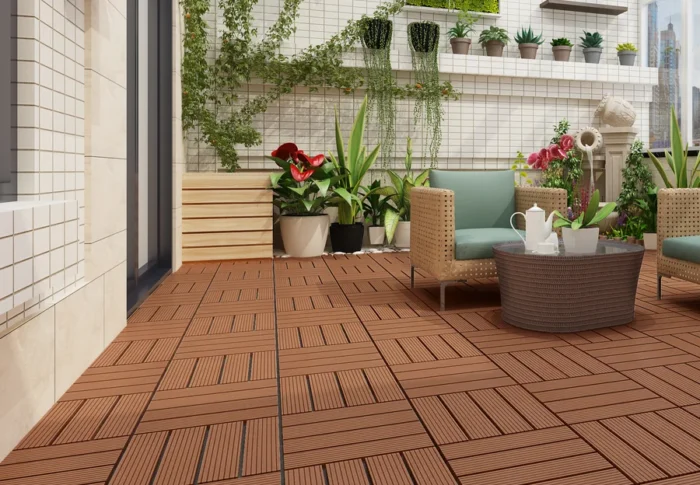 The patio flooring plays a major role in the overall look, durability, and functionality of the space. Cracked concrete, splintering wood decking, or outdated tiles can make a patio look worn out. Replacing the flooring provides an instant facelift.
When selecting new flooring, consider options like:
Flagstone or pavers for an organic, timeless look.
Textured concrete for an understated yet sleek appearance.
Composite decking made from recycled wood fibers mixed with plastic for durability.
Porcelain tiles that mimic the look of natural stone but are more resilient.
Interlocking rubber tiles that provide cushioning and are easy to install.
Aim for flooring that offers texture, slip resistance, easy cleaning, and drainage. Aesthetically, choose materials and patterns that complement the home's exterior. For high-traffic areas like seating spaces, integrate decorative area rugs to delineate zones and add comfort underfoot.
3. Install a Pergola or Pavilion
Installing an overhead structure like a pergola or pavilion instantly elevates a patio. It also adds shade and weather protection to make the space more usable. Pergolas are composed of open-slatted wood or vinyl beams that allow filtered sunlight to pass through. Pavilions feature a roofed structure supported by posts at the corners.
Consider the following when adding an overhead element:
A wood pergola has a classic appeal but requires more maintenance. Vinyl is more durable.
Choose a size and scale in proportion with the rest of the patio. Avoid overwhelming the space.
Incorporate features like retractable waterproof shades, hanging lights, and built-in benches to enhance functionality.
If adding a full pavilion, select roofing materials that complement the home, like standing seam metal, shingles, or tiles.
Check local regulations for requirements prior to installation, especially if attached to the home's roof structure.
Pergolas and pavilions provide shade for plants and people while also defining the patio as an inviting outdoor room.
4. Upgrade the Furniture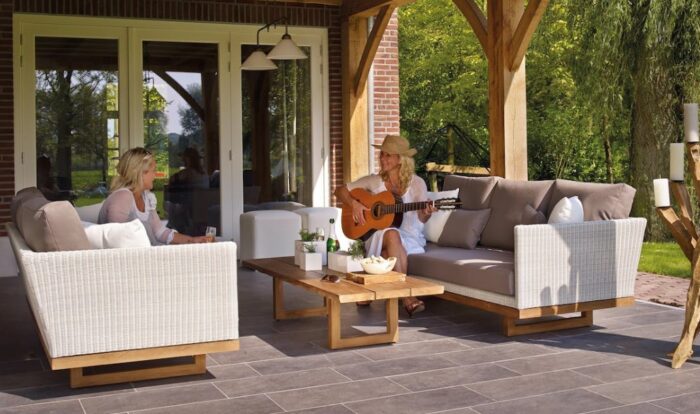 Outdoor furniture plays a major role in the functionality and aesthetic appeal of a patio. Old, broken-down furniture makes the space feel dated. Replacing worn-out pieces with new, high-quality options elevates the look and comfort of the patio.
When selecting patio furniture, consider the following upgrades:
Choose durable materials like powder-coated metals, weather-resistant mesh, UV-protected plastics, and teak wood.
Search for comfortable yet supportive cushioning on seating. Detachable cushions make cleaning easier.
Opt for stackable, foldable pieces to save room when not in use. Nesting tables, folding chairs, and stackable stools are convenient options.
Look for multipurpose furniture like chaise lounges, ottomans, and modular seating for flexibility.
Include weather-resistant fabric umbrellas for portable shade.
Incorporate built-in seating like benches, banquettes, and steps for a cohesive look.
Select coordinating pieces like tables, chairs, sectionals, and ottomans that achieve a unified aesthetic.
The right outdoor furniture transforms a patio from a basic slab into a comfortable, inviting living space.
5. Incorporate Ambient Lighting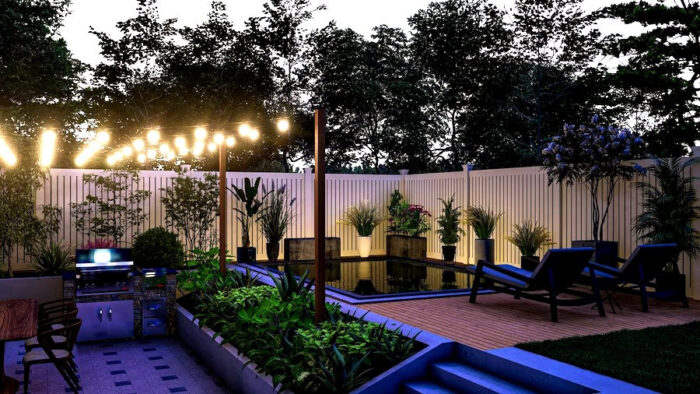 Proper lighting sets the mood and allows for the use of the patio after sunset. Ambient lighting illuminates pathways, adds drama, and enables safe navigation once it gets dark.
Lighting possibilities include:
Pathway lights lining paved surfaces, steps, and walkways.
Dramatic spotlights aimed at architectural or landscaping elements.
Lanterns and votive candles for a cozy glow on tables and hanging from beams.
Strung bulb lighting and paper lanterns stretched overhead.
Discrete LED lights along the base of seating, stairs, and planter beds.
Wall sconces flanking doorways.
Post cap lights topping fence posts or stair banisters.
Mixing various lighting sources creates an inviting ambiance for evening patio use. Just be sure to position and angle fixtures to prevent glare.
6.  Add Privacy Features
While patios are meant for relaxing outdoors, a lack of privacy can make the space feel exposed. Strategically placed screens, fences, plants, and structures allow homeowners to enjoy the patio while maintaining privacy.
Privacy options include:
Tall privacy fences or walls around the perimeter. Trellis panels also diffuse views.
Fast-growing bamboo, hedges, trees, and flowering vines as living screens.
Strategically placed pergolas, trellises, planters, and courtyard walls to block lines of sight.
Patio curtains hung from overhead beams or rails offer a quick privacy solution.
Canopies, umbrellas, and gazebos to cocoon seating areas.
Tiered decking, hot tubs, and pool features placed thoughtfully to block views and create seclusion.
Enhancing privacy transforms intimate patios into outdoor living rooms perfect for relaxing and entertaining.
Conclusion
Patios are important yet often neglected spaces that offer huge potential when thoughtfully designed and upgraded. Even modest improvements can make a major difference in a patio's appeal and enjoyment.
Elements like new flooring, stylish furniture, ambient lighting, and special features transform basic patios into enviable outdoor living rooms perfect for relaxing and entertaining. By playing up the strengths of your existing patio while addressing any worn-out or lackluster areas, it's possible to create your dream space.
With strategic upgrades suited to your needs, preferences, and budget, you can reinvent your patio and take your outdoor living experience to the next level.